Learn about all kinds of dinosaurs, how they might have lived, their behavior, appearance and more with these awesome video clips.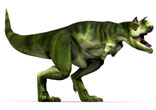 Dangerous Life of Dinosaurs

Enjoy this video and learn more about the dangerous life of dinosaurs. The environment is changing during the late Cretaceous Period, the last days of the dinosaurs. As carbon monoxide steam comes from volcanic vents a Tyrannosaurus rex tries to feed on dead dinosaurs, but he himself almost falls victim to the gas.